Lexan Polycarbonate | Lexan Multiwall Polycarbonate

Multiwall Lexan Polycarbonate Technical Information


Lexan Thermoclear Polycarbonate Sheet is an impact resistant, energy-saving, multiwall polycarbonate glazing sheet. It features a proprietary surface treatment which provides resistance against degradation caused by UV radiation in sunlight. The entire Lexan Thermoclear Polycarbonate Sheet range of products carries a Ten Year Limited Warranty* against discoloration, loss of light transmission and/or loss of strength due to weathering.
Typical polycarbonate sheet applications include:
* Greenhouses, Sunrooms
* Hurricane Protection
* Swimming Pool Enclosures
* Skylights/Overhead Glazing
* Atriums, Canopies and Walkways
* Industrial Roofs and Sidewalls
* Shopping Center Roofing
* Railway/Metro Station
* Football Stadium Roofing
* Security Applications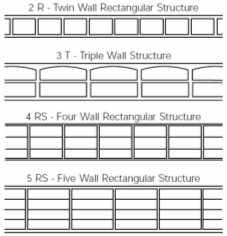 MECHANICAL PROPERTIES – POLYCARBONATE SHEETS
GARDNER IMPACT
The principle of the GE modified Gardner falling dart impact test is as follows: The polycarbonate sheet specimen is
placed over a hole of 1 inch diameter in a die mounted on the anvil. The round nosed dart, .5 inch diameter, is placed upon the specimen. The dart with a mass of 8.8 pounds is raised to the desired height in a 3.3 foot calibrated tube, and dropped. The test specimen is considered to have passed the test if the sample shows no visible signs of surface cracks around the impact area.

HAIL SIMULATION
As a roof glazing material, Lexan Polycarbonate Sheet is subjected to the extremes of weather; storms, hailstones, wind, snowfalls and ice formation. Under these conditions, the product is exceptionally tough and is able to accommodate the subsequent temperature change to sunny conditions without breaking or buckling.

In a test developed by the Dutch Testing Institute TNO, samples of Lexan Polycarbonate Sheet have been subjected to simulated hail stones of varying diameters of up to 1.2 inches without significant damage.

OUTDOOR WEATHERING PERFORMANCE – POLYCARBONATE SHEETS
UV PROTECTION
Lexan Thermoclear Polycarbonate Sheet has a UV-protected surface, giving durability to outdoor weathering. The unique technology applied to Lexan Thermoclear sheet helps to ensure long term optical quality under intensive UV exposure, and maintain the superior toughness of the polycarbonate material in comparison to other thermoplastic glazing.

WARRANTY – POLYCARBONATE SHEETS
Ten Year Limited Warranty covering discoloration, loss of light transmission and loss of strength due to weathering.

TEMPERATURE RESISTANCE – POLYCARBONATE SHEETS
Lexan Thermoclear Polycarbonate Sheet has a continuous-use temperature of 212°F*. At the other end of the scale the minimum continuous- use temperature has been set at -40°F. Using Lexan Thermoclear Polycarbonate Sheet at lower temperatures is possible since the embrittlement temperature can be as low as -80°F.


Lexan Multiwall Polycarbonate Properties
Sheet thickness mm
6
8
10
16
25
Number of walls
2
2
2
3
6
Approx. weight lbs/ft²
.27
.35
.41
.57
.72
Clear 112
Light Transmission %
82
82
80
76
44
Clear 112
Solar transmission %
86
86
85
82
58
Bronze standard 5109
Light transmission %
50
50
50
50
23
Opal 875074
Light transmission %
40
40
40
40
U-value Btu/Hr x Ft² x °F
0.61
0.58
0.52
0.42
0.27
UL RATING
The U.S.A. Underwriters Laboratories continuous-use temperature rating can be considered as a reliable indicator of a thermoplastic's long-term high temperature performance. Important properties of the thermoplastic are tested at various temperatures. Test results are extrapolated over a period of 10 years and no property may lose more than 50% of its original value. Figure 10 outlines the UL-continuous-use temperatures of typical thermoplastic glazing materials.

FIRE PERFORMANCE
Lexan Thermoclear Polycarbonate sheet has good fire behavior characteristics, and receives high ratings in several major European fire performance tests. As a thermoplastic, LEXAN Thermoclear sheet will typically melt under the intense heat of a fire.

CLEANING POLYCARBONATE SHEETS
Periodic cleaning using correct procedures with compatible household cleaners is recommended
to prolong service life. For general cleaning, it is recommended that the following instructions be adhered to.

Cleaning agents which have been found to be compatible with Lexan Polycarbonate Sheets under laboratory conditions:

• Joy dishwashing liquid
• Palmolive dishwashing liquid
• Top Job
• VM&P grade Naptha

Procedure:
1- Rinse sheet with lukewarm water
2- Washing sheet with a solution of mild soap or household detergent and lukewarm water, using a soft cloth or sponge to loosen any dirt and grime.
3- Rinse with cold water and dry with a soft cloth to prevent water spotting.